The Golf Swing at The Top
The Golf Swing Transition
At the top of a backswing, the golf swing transition takes place, the direction of the swing motion reverses course. Motion away from the target (backswing) becomes motion toward the target (downswing). This transition is a critical juncture in the golf swing and needs your maximum attention.
Three Hand Positions at the Top of Golf Swing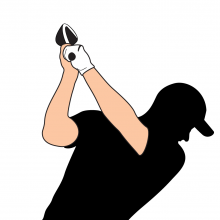 Squared position:
The club-head is squared, the hands perfectly rotated to the ideal position. This is the simplest way to return the motion toward impact.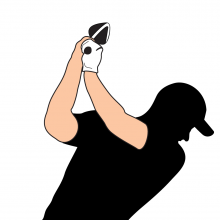 Cupped position:
The club-head is open and the hands are rotated under. This position is likely to cause slice.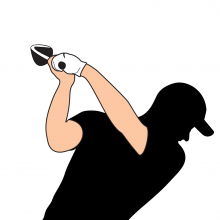 Bowed position:
The club-head is closed and the hands are rotated over. This position will most likely cause hook.
Common Problems at the Transition
Starting a downswing before completing a backswing.
Springboarding off from the end of the backswing; this may work for some, but for most it does more harm than good, as they lose speed, balance, and composure.
Putting weight on the wrong foot (front foot or subdominant side).
Moving the upper body upward, downward, or sideways (swaying).
Re-gripping; this bad habit triggers the dominant hand to be active.
Casting; releasing a wrist at the start of downswing, lose swing speed.
Swinging over the top: hitting at the ball, initiates out to in swing path.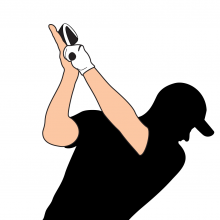 Opened Hand - SwingPilot Method
SwingPilot Advantages:
Causes weight to shift to the correct foot (back foot or dominant side)
Promotes better shoulder turn
Maintains a controlled position at the top
Makes it easy to detect the completion of the backswing
Stops the habit of re-gripping at the top
Prevents casting or hitting over the top
Helps initiate a smooth and correct downswing.
Provides controlled golf swing transition.
Key point: Finish the backswing correctly and then start the downswing precisely.
( See Swing Plane )